Metastaz - Anekoik Pressure
Troisième album pour le stéphanois Metastaz, après Electro-choc Cerebral et l'Ep-5 Motion, il revient après plus d'un an d'inactivité avec un magnifique double album d'une qualité surprenante. Dans ce nouvelle opus Metastaz nous transporte dans son univers, sentiments pesants, rhytmique lourdes, puissantes basses, mélodie lègére, harmonie frissonantes, savent nous faire comprendre ce qui se passe la dedans et nous faire sentir l'ambiguité dominante de ce dur monde d'incompréhension.

A travers une finition quasi-professionnelle et une puissance artistique incontestable Metastaz montre que la musique libre a encore de beau, très beau jours devant elle.

Des invités sur ce nouvel opus :
le Grendel membre actif de l'ancien collectif General Dub, Webcam Hi-fi, les russes de Dub TV, Lena et le groupe stephanois de Ska-punk Boaviska. Bref des artistes de choix et de qualité qui sont venus préter mains forte a Metastaz pour ce projet commencé il y a maintenant plus d'un an.
Très bonne écoute a tous !
Télécharger Anekoik Pressure CD1 (Archive .zip + covers avec mp3 en 128kbps: 70mo)
Télécharger Anekoik Pressure CD2 (Archive .zip avec mp3 en 128kbps: 24mo)
Ecouter Anekoik Pressure CD1 en streaming (En mp3 96kbps)
Ecouter Anekoik Pressure CD2 en streaming (En mp3 96kbps)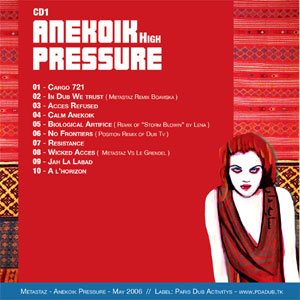 Apres une bonne écoute il ne reste plus qu'à aller donner votre avis sur le forum ici.
Playlist
CD1
01 Cargo 721
02 In Dub We trust (Metastaz Remix Boaviska)
03 Acces Refused
04 Calm Anekoik
05 Biological Artifice (Storm Blowin remix of Lena)
06 No Frontiers (Position remix of Dub Tv)
07 Resistance
08 Wicked Acces (Feat Le grendel)
09 Jah La Labad
10 A l'horizon

CD2
01 Salle Dub Ain
02 Ironikal Kelha (Radio Interlude)
03 Water On Sun
04 Tristesse
05 Higher Degree (Webcam Hi-Fi Remix)
06 An Artist in Geneva (To Rana)

Le back:


Cette création est mise à disposition sous un contrat Creative Commons.